The field of nursing thrives most importantly on the parameters of quality of education and the degree of knowledge which the healthcare professionals should possess before going out and live onto the field of practice. It is important to maintain the standards of formal education for nurses and it is on these lines that every nursing institute has a set standard and structure of the curriculum to be followed for a variety of nursing specialization programs.
Not to forget, lack of awareness and improper education about a subject or a situation can cost for people's health and in order to avoid doing that, nursing research should always be a continuous process.
Many a times, budding nursing professionals are suggested to read nursing books apart from their curriculum but what's important is to understand the impact of every study material. Each scholar has a different theory and a different concept which can usually put two situations ahead of you.
One, where you correlate all the concepts and work as per the patient's situation. However, the second one is a little risky where you try and experiment with those concepts in practical patient care and might have a chance to fail at it. So, the fact does remain intact about each theory coming from a practical experience but in order to be sure about it's after effects, nursing research should be an inseparable part of it. The more you dig into researching, the better are your chances to effectively put it into action.
Best Reference Books
Nursing is a vast field with plenty of specializations included in it and the more diversified the field, the higher are the opportunities to learn. In India, nursing is one of the highly chosen professions and it is important for nurses providing patient care, to be well-equipped with the required skills and knowledge.
There can be many powerful tools of learning that help to obtain these skills but what remains unchanged is the strength of theoretical learning. The grasping power of nursing students can be on an all-time high when they read in depth about a procedure, its causes and effects.
Depending upon the requirement, there is a variety of nursing books available. Some might focus on reviving the lost sense of motivation, while there can be others with a purpose to understand the psychological, personal, professional and emotional aspects of nursing. So, to begin with, let's discuss a few names which are really helpful for nursing students looking towards enhancing their educational quotient in the suitable specializations.
Medical surgical nursing – Lippincott
About the book:
Nursing students who are seeking exposure in terms of NCLEX preparation can refer to medical surgical nursing book. This book offers a comprehensive outline of practical nursing experiences and also includes answer keys for easy reference of the students. The basic idea is to educate the budding nursing professionals about NCLEX, and also to prepare them with a variety of questions which can be a part of the NCLEX examination. The medical surgical nursing book offers the most latest content about being a registered nurse and is thus, preferred my a majority of students.
Well, because every student has a different approach to grasp some methods and techniques, this book has maintained a balance between the theoretical and technical ways of learning. At the back of the book, there is a CD-ROM which contains innovative questions for students who want to have a different approach towards learning.
Image source: Amazon.in
About the author:
The author is an internationally recognized medical writer and has published more than 300 periodicals, and 1,500 medical discipline books. His books including the medical surgical nursing book, serve to be a major information source for nursing students hailing from different specializations. Apart from this, he also is an active contributor in the field of applied health and pharmacy.
Reviews:
The book specifically caters to the students preparing for examinations like NCLEX and APRN, which is why the idea of keeping it simple and straight forward can be seen in the textbook. Medical Surgical Nursing book as a whole provides abundance of information about the latest medical facts and practices which makes it a high preference among the students. The fact that it is written by Lippincott makes it all the more credible as students can rely on the facts and findings being published by a renowned and old scholar like Lippincott.
Source: Goodreads

Principles of Anatomy and Physiology – Gerard J. Tortora
About the book:
It is a discipline oriented book which focuses purposely on striking the right balance between structure and function of the human body. Stress has also been laid on talking about physiology, pathology, anatomy and homeostatic imbalances as individual approaches and also collectively.
This book is considered to be useful for the students seeking information about degree of dependence between normal physiology and pathophysiology, normal anatomy and pathology, and homeostasis and homeostatic imbalances. Also, the illustration scheme used in this book simplifies the complex procedures by making them easy to understand for students.
Image source: Amazon.in
About the Author:
"Principles of Anatomy and Physiology" is a creation of two authors namely, Gerard J. Tortora and Bryan Derrickson. Both the authors have a history of experience in biology and physiology respectively. The book is originally a brainchild of Gerard Tortora and Bryan has provided his inputs as a co-author to it. More than 100 professors provided their inputs to this book with a vision of simplifying the concepts for students and make it an easy to comprehend classroom experience.
Reviews:
The text book elaborates on anatomy and physiology which gives a detailed view to the students. One benefit which the book has is that it's not content-heavy and still provides all the required details for the nursing students. Usage of illustrations has been in focus, making the concepts relatively easy to understand.
Looking at the previous version of this book, it won't be wrong to say that the latest version of it has taken into consideration the feedback from students and improvement in the text usage has been seen. Commenting on the clinical upfront, the information includes keen insights from scholars which means relevant and applied information is being exhibited for student's consumption.
Source: NCBI
Nursing research and statistics – Suresh K Sharma

About the book:
Research is an important aspect of nursing and in order to gain reliable knowledge about it, one must refer to a credible source of information. On that note, nursing research and statistics is a textbook written by author, Suresh K Sharma. The book provides detailed insights about nursing research, its foundations, problems, hypothesis, theories, analysis, and statistics.
Nursing research and statistics is a book written as per the guidelines provided by the Indian Nursing Council for B.Sc. nursing students. The book can be an important source of information for the post graduate students too, depending upon the subject choices. Information shared in the text book includes research methodologies adopted in the practical field.
Image source: Amazon.in
About the author:
Suresh K Sharma is a professor of nursing with All India Institute of Medical Sciences, Rishikesh, Uttarakhand. Being a full time educator, he also is an author and has contributed to the field of education by writing a handful of nursing books till date. His work has majorly revolved around research, different nursing disciplines and biostatistics.
Reviews:
The book is a detailed view into the world of nursing research which makes it a helpful source for nurse practitioners, budding nurse professionals and researchers. With the complexities being presented in a simplified way, the textbook has talked about realistic concepts which are useful in the practical field too. An extensive use of examples can be seen which helps to understand the topics with a better clarity. There's enormous volume of knowledge in this small book which provides in-depth coverage of all aspects of nursing research in a concise manner.
Source: Booksnclicks
Obstetrics & Gynaecology – D.C. Dutta
About the book:
This book targets Obstetrics and Gynaecology and goes to all lengths with the detailed understanding of various concepts related to this discipline. Students in bachelors, post graduate and diploma programs in India are suggested to refer to this nursing book for a better clarity of the concepts related to Obstetrics and Gynaecology.
With an optimal usage of graphics and diagrams, this nursing book provides an exposure to the students who want to study in depth about a few concepts. Like, in one of the chapters titled, "Special Topics", the author talks about pelvic pain, lower back ache and leucorrhea which reflects on the need to talk more about these issues as these are few of the many common complaints in any Gynaecology OPD.
Image source: Amazon.in
About the author:
Dr. Durlav Chandra Dutta who's popularly known as DCD was one of the renowned Indian gynecologists. The idea of writing a book about Obstetrics & Gynaecology interested him as he himself obtained his Master Degree M.O. in Obstetrics & Gynaecology from University of Calcutta. Apart from this book, the author has contributed to the world of nursing by writing a couple of other books too. The names include:
1. Text book of Obstetrics
2. Text book of Gynaecology
3. Emergencies in Manipulative and Operative Obstetrics
4. A guide to Clinical Obstetrics and Gynaecology

However, this one nursing book about Obstetrics and Gynaecology is read throughout India and even in a few education centers abroad by nurse educators and nursing students.
Reviews:
The latest edition of this book provides the students with an in depth analysis of Gynaecology and various measures associated with its practical experience. Many nursing institutions have also adopted this as the primary source of studying for students. Accompanied with a DVD ROM, this nursing book also has relevant visual representation of facts which are important for the students.
Source: Dr. D.C. Dutta
Fundamentals of Nursing – Sister Nancy
About the book:
The "Fundamentals of Nursing" book aims at educating the students about currently prevailing nursing practices, their impact, benefit and uses in the practical field. It is not only preferred by the students but it also has a lot of que points which are beneficial for the nurse educators. The book, Fundamentals of Nursing fulfils the basic criteria of being a high preference as it is very easy to comprehend and comes with a very easy language being used. The table of contents is arranged as per the latest syllabus provided by Indian Nursing Council and each chapter provides an introduction to the basic concepts of nursing and how one can use them to be a qualified competent nurse.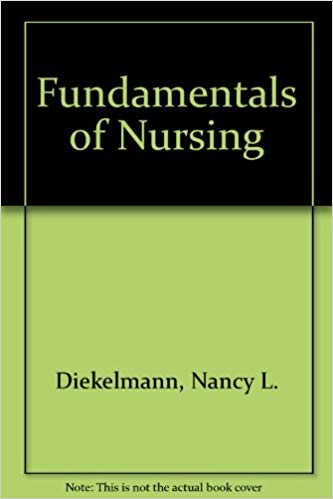 Image source: Amazon.in
About the author:
Sister Nancy is the author of Fundamentals of nursing book and with this book she has laid stress on realizing the importance of nursing concepts and how it is important to identify their usage in the daily practical life of a healthcare professional. Apart from this, Sister Nancy has made many more influential contributions by writing books about different specializations of nursing. These include coronary care nursing and senior nursing procedures, to name a few.
Reviews:
Fundamentals of nursing book is a self-explanatory textbook which is highly preferred by the students and the faculties of different nursing institutes. Three factors which remain intact in this nursing book are clarity of thought, comprehendible jargon and self-explanatory concepts. To know more about what nursing students think about Fundamentals of Nursing and how helpful is it in the curriculums, you must look at the video below.
In the video is Shivani who chose INSCOL as her trusted education partner for pursuing a specialized nursing program in Ontario, Canada. Here, she has mentioned a few things about the Fundamentals of nursing book which was a part of the curriculum for the program she studied in India and how it turned out to be a useful resource for her.
VIDEO: Fundamentals of nursing book review
With the books mentioned above, one can effectively learn the different nursing practices tagged along with different nursing disciplines. Also, it is important to read frequently in order to stay updated about the ever changing nursing practice across the globe. The text book names mentioned above, cater to different disciplines of nursing and each of it holds a prime importance in the vast field of healthcare as each has its own benefit and share of knowledge to provide.
However, there can never be a comparison between the theoretical learning and the practical experiences but one can surely learn from a theoretical point of view and understand the causes and effects included in each of the specializations. If you also have any more relevant inputs about the books one must refer to, feel free to share it with us in our comments section.