Nurses are the backbone of the health care industry and this fact has gained its due importance not just on a national level but globally. Every nurse is a leader and it is only with time that the true leadership attributes of nurses in the health care system are recognized. Quality leadership skills, confidence, innovation, and the capability to implement changes are essential qualities to ace the management-oriented roles in the health and nursing fields. With development taking place, the role of nurses has gained importance in health care. There's so much to manage, which is resulting in a growing need for nurse managers. Innovation has opened many doors for exploring new opportunities on national and international levels. Unlike before, the media and the news are highlighting nurses as leaders who support the health and medical ecosystem. It is important to stay updated with the nursing news that informs you about the innovation and resources that can be helpful in your big move. If you're a nurse planning to step up in your career graph, then you must try to use make use of this innovation and study nursing programs that can guide you towards becoming a health care leader by getting a quality education. You could choose to study online or get enrolled in a full-time education program. Be well informed about the pros and cons associated with online education and the on-campus programs to make the right choice. To do so, you can join health field-related seminars and discussion groups to interact with other participants and know about their journey, plans, and how your fellow participants have aced their journey so far.
Get Started With the Basics of Nursing Leadership
Nurse leaders and managers are essentially required to supervise clinical juniors or trainee nurses and work in coordination with the medical practitioners to provide better and systematic services to the patients. Before we dive deep into the vast pool of information about what nurse leaders and nurse managers do, let's identify the basics that should be covered to follow this path. The first step for you to lead as a nurse is to identify your clinical duties and ensure that you acquire the skillset required to perform those duties. Although every nursing student wants to be enrolled in a nursing program that promises to be the best it is important to check if your upcoming program is aligning well with your academic history and future goals.
There are multiple ways of getting ahead in your research for a well-suited study program. To begin with, start identifying your resources in the following manner:
Attend multiple online webinars & seminars for clinical nurses aspiring to become leaders
Evaluate your resources by researching the university faculty
Thoroughly research how well qualified is the teaching faculty
Arrange in-person meetings with the faculty to understand things better
Interact with participants with whom you attend the online webinars
Interact with nursing leaders within your organization and learn from their experience
Once you're through the first step, you can pace up for the real-time scenarios that will demand the leader inside you to shine bright. In critical patient care scenarios, you must keep observing leaders around you. Learn from their methods and make extra efforts toward building trust with the patients and their families. At the same time, your connection with your nursing unit should also be managed quite well. Doing so helps you stand out from the lot and enhances your nursing leadership qualities.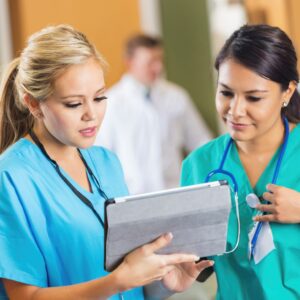 Types & Styles of Nursing Leadership
Depending upon the varying health systems and health care settings, the leadership types can be categorized as:
Transformational
Democratic
Laissez-faire
Autocratic
Servant
Since globally health care has been quite developed over the years, it is a known fact by now that the most effective nursing leadership takes place when both nursing staff and patients benefit from the unit acting as a team. A lot of research shows nurses at the center of the care and healing that occurs in a facility or an organization. It is important to understand and evaluate various styles of nursing leadership before you pick a nursing leadership program. Once you identify the resources, knowledge, and information to be put to use, you could establish a foundational understanding of falling into current styles, while also assessing which styles might be more successful for you in the future.
Importance of Nursing Leadership Programs
Nursing leadership is important to integrate quality patient care delivery and an uplifting healthcare system. To inculcate the skills that can make you a good fit as a nurse supervisor, manager, chief nursing officer, and nursing leader, you must continue upskilling by pursuing nursing leadership programs. This will help you match up with the fast-paced evolution of healthcare and bring an abundance of growth and career opportunities for you. Nurses should have proper knowledge of the services they extend to provide healthcare to patients and especially, those suffering from terminal diseases. It includes the complete knowledge of operating different medical devices and equipment without showing any signs of pressure or panic. This is a part of the academic curriculum, which every nursing student should focus on. This learning is not only learned at a university or college but also occurs every day during critical situations. Hence, always consider yourself to be a nursing student who is in the process of learning about discoveries every day. It is a common perception that nurses are required to provide support to doctors in carrying out different tasks, especially during surgeries and other critical illnesses. Once the doctor's job is over, it is the nurses who take care of the patients. This is where leadership, confidence, education, commitment, focus, and education help navigate your way around critical and complex patient care cases.
How To Choose the Best Suitable Nursing Leadership Program
Once you've picked the program that best matches your current nursing career goals and future health care practice, you need to develop a strategy to know if it works for you. The first step in making a leadership decision is to identify the best suitable nursing/health care program for you. The next step, of course, is to figure out what would be the ideal suitable duration of the program you'll be choosing. After deciding the duration, you could check universities or colleges that offer a graduate certificate program or a master's degree program. Think of it as an investment to develop and enhance your health care education. Don't forget that you and your future patients are going to be the key stakeholders in your education because it is ultimately going to be the most rewarding for just you and your patients. Hence, you must ensure to gain the knowledge needed to proceed further in your career as a nurse or allied health care professional.
Get Familiar With the Curriculum of Your Study Program
The curriculum and educational materials for your nursing program should provide you with the knowledge needed for success. Getting a complete hold of theoretical education combined with practical learning will develop your skills to lead, manage, and organize workload in complex health care organizations. The course content must include Executive leadership since it is an important aspect of the curriculum of a nursing leadership program. Executive leadership as a part of your education can teach you so much about nursing practice and its evolving ways. Your chosen program should follow a collaborative and inter-disciplinary format.
Research About the Nursing Leadership Program
If creating a profession as a nurse leader interests you, we recommend you begin by researching and getting in touch with renowned and reliable colleges. Speaking to a friend or relative in the healthcare industry and building your network could also be a great way to start. You'll be surprised by the number of similarities you can identify between working nurses in different nursing practices, from management to administration, to research and patient care. When you're ready, start listing down your options and ways you can make those options work in your favor. Once you have the list ready, make sure to give a thorough look at the modules you plan to study and if they emphasize enough strategic leadership, leadership development, team performance, care delivery, leadership in varied health care settings, and evidence-based practice.
Nursing Leadership Program at Seneca College in Canada
Seneca College of Applied Arts and Technology is a multiple-campus public college in the Greater Toronto Area, and Peterborough, Ontario, Canada regions. The college provides a graduate certificate program designed to enhance the skills of aspiring and current Registered Nurses. This study program will help you acquire leadership education and advance the role of a leader in a health care setting. With the help of this program, you also get well-versed with the style of leadership development followed in different health systems, health care settings, and organizations. This program helps you build foundational skills to prepare you for leadership positions. During the program, the faculty provides you with specialized training.
Develop the Following Skills With This Program:
Understanding leadership theory and practices
Nursing informatics
Clinical leadership decision-making
Communication as a nursing leader
Your Career Outcomes
When you graduate from this program, these are the types of career options that you can explore:
Nursing Unit Leaders
Charge Nurses
Administration Roles
Management Roles
Make an Informed Decision
Once you're through your research, you must analyze it for yourself and make an informed decision. Make sure to check plenty of news sources, and connect with students and alumni to validate the authenticity of your university or college. Keep in mind your short-term practice goals, and long-term professional objectives before you enroll in a study program. If you'd like, you can also search for plenty of online programs that can help you maintain a working schedule alongside studying. However, the benefit of studying on-campus is that students get wider exposure to nursing practice.