What is the meaning of palliative care?
Palliative care is a type of medical care that focuses on providing relief from symptoms and stress created by serious illnesses. It is provided by palliative nurses, who have the skills and experience to manage pain and uncomfortable side effects while helping to keep patients comfortable.
Palliative nurses also give emotional and spiritual support to both patients and their families. They work with the patient's primary medical team to ensure each individual gets the most out of their palliative care experience.
Ultimately, palliative care seeks to improve the quality of life for patients with serious health conditions, offering relief from suffering without sacrificing other areas of holistic well-being.
As defined by World Health Organization or WHO, Palliative Care Nursing is an approach that improves the quality of life not only for patients with critical illnesses but also for their families who care for them.
This is done through the prevention and relief of suffering using early identification, impeccable assessment, and, treatment of pain and other problems which might be physical and psychological. Palliative care services aim at relieving any suffering caused by a serious ailment, resulting in extreme discomfort to the patient.
Important Statistics from the WHO
According to research published by WHO, only 14% of the people who require Palliative Care Nursing worldwide actually receive it. World Health Assembly resolution emphasized the need to create national palliative care policies, to ensure training for palliative care nurses.
According to the 2012 fact sheet of the Canadian Hospice Palliative Care Association or CHPCA, only 16% to 30% of Canadians who die currently receive or have access to palliative care nursing at home or health care centers.
The leading causes of death in Canada are mainly diseases of the circulatory system, which are about 35%, tumors or cancers which are about 28%, and disorders of the respiratory system, which are about 10%.
It was in 2004 that Statistics Canada projected the death rate in Canada to rise by 33% by the year 2020 amounting to more than 330,000 deaths per year. Palliative care programs and palliative care services are beneficial to every group, which is approximately 73% of all Canadian deaths.
Specialist palliative care programs allow patients to gain more control over their lives, manage symptoms and pain more efficiently, and also provide support to family and informal caregivers.
What is the role of palliative care nurses?
Palliative care nurses play an important role in the health care system. They focus on managing and reducing a patient's pain and other troubling symptoms associated with serious life-limiting illnesses, as well as providing emotional and spiritual support throughout the palliative care process.
Additionally, a palliative care nurse typically serves as a conduit between patients, their families, and their medical teams, promoting understanding and facilitating proper communication of a person's needs and wishes.
Palliative care nurses are excellent advocates for the welfare of those suffering from life-limiting diseases by ensuring that they receive supportive end-of-life treatment.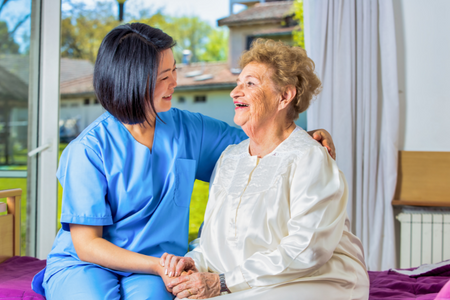 Basics of Specialist Palliative Care
Specialist palliative care is an important component of care for those suffering from serious illnesses. Early integration of specialist palliative care can provide improved quality of life as well as emotional and physical symptom relief.
This type of care encompasses a multi-disciplinary team that includes physicians and other professionals, such as social workers, chaplains, dieticians, and palliative care nurses.
Palliative care nurses are a vital part of this team with the role of providing comprehensive person-centered support throughout the illness journey. They are invaluable assets in guiding symptom management and emotional support during this difficult time.
The key to successful specialist palliative care lies in its support for patients, families, and health practitioners from early integrated interventions to improve the best possible outcomes for those affected by serious illness.
What are the 3 main goals of palliative care?
If you are an aspiring palliative care nurse, it is important to understand the goals of palliative care services.
The first goal of palliative care is to relieve suffering. This includes physical, psychological, spiritual, and emotional pain. The goal is not only to reduce as much suffering as possible but also to ensure symptom management so that the patient is comfortable at all times. Nurses can help with precise symptom management through communication with the patient and their family members, offering compassion and support throughout the process.
The second goal of palliative nursing is to improve the quality of life. This includes helping patients find ways to stay engaged in activities that bring them joy and meaning despite their life-limiting illnesses. Nurses can play a key role in helping patients maintain meaningful relationships or find new hobbies or activities that satisfy them despite chronic illness.
The third goal of palliative care is to offer support for both patients and their families during times of coping with serious illness. This means providing emotional support, guidance on decision-making processes, information about available treatments and resources, and practical advice on managing symptoms at home or in a hospital setting.
Nurses should strive to create a safe space for seriously ill patients and their family members so that they can openly express their feelings without fear of judgment or criticism from medical professionals or other family members.
Palliative care nurses work round the clock to offer invaluable services to those facing life-threatening illness. Palliative nurses who specialize in this field must understand the three main goals associated with palliative care: relieving suffering; improving quality of life; and offering support for both patients and their families during difficult times.
With these goals in mind, palliative nurses can better serve those who need help navigating serious health issues while finding peace amidst challenging circumstances.
Future of Palliative Care Nursing
The world is experiencing a growing need for palliative nursing. This specialization is becoming an increasingly important part of healthcare. It involves providing nurses with specialized skills and knowledge to provide end-of-life care and support to patients and their families. As the population ages, the need for palliative care nurses is growing. Let's take a closer look at this important field and why it's an excellent career choice to become a palliative nurse.
What Does Palliative Care Nursing Entail?
Palliative care nursing focuses on patient comfort and quality of life. This means that nurses provide early palliative care in the form of physical, emotional, spiritual, and practical support to patients throughout the end-of-life process.
This type of nursing requires specialized palliative care teams equipped with knowledge in communication skills, symptom management, family dynamics, advance directives, legal issues, grief counseling, and more.
In addition to providing direct patient care, palliative care nurses also provide education about end-of-life issues to both the patient and family. It is done so that they can be better prepared for the difficult journey ahead.
Why Is Palliative Care Nursing Important?
Palliative care nursing is essential because it provides comfort and support during a difficult time in a person's life. It is also an important way for nurses to make a difference in people's lives by helping them find peace and acceptance during a trying time.
Additionally, palliative care can help reduce hospital stays as well as improve overall health outcomes by helping families make informed decisions regarding treatment options. Finally, palliative care allows families to spend quality time together while providing necessary support when needed most.
Niagara College Canada presents a fantastic opportunity for those interested in providing palliative care nursing. Located in the beautiful Niagara region of Ontario, the college's program provides the necessary training and certifications to become a qualified palliative care nurse.
This includes engaging learning opportunities with close faculty mentorship and clinical experience in diverse settings that provide an all-encompassing view of providing compassionate and skilled healthcare for complex cases.
Studies focus on providing effective communication, specialized clinical skill building, pain management, providing emotional support for family members as well as providing spiritual guidance. With modern technology incorporated into the program, studying at Niagara College Canada is sure to be an enriching experience.
Conclusion
Palliative care nursing is an incredibly rewarding field that provides essential services to those in need of end-of-life care and support. With its growing importance in healthcare settings all over the world, it is an exciting time to be a palliative care nurse as new opportunities arise each day. If you are looking for a meaningful career path where you can make a real difference in people's lives every day then consider taking your nursing career into the field of palliative care today!