Canada is a popular destination for practical nursing education, and its universities and colleges offer nursing courses for all levels of study. From diploma programs to short-term nursing courses in Canada to Master's degrees in nursing, there are many quality educational options available.
Nursing courses may cover areas such as nursing theory, pharmacology, mental health nursing, or gerontological nursing. Many universities offer opportunities to specialize in nursing specialties or research studies. Conditions and fees vary according to the institution and nursing courses chosen; it is important to research options carefully before deciding on a specific nursing course.
Financial aid may be available in some cases. With its high-quality practical nursing education and diverse range of study areas, Canada is an attractive option for those interested in furthering their nursing careers.
Top Specializations for Nursing Courses in Canada
Nursing courses in Canada offer a wide range of specializations for prospective practical nurses, making studying here an attractive proposition for both domestic and international students.
Specialties include maternal-child nursing, critical care nursing, acute complex care, feminist and gender studies, clinical nurse specialist, and mental health nursing, to name a few. Each of these areas offers practical nursing learning as well as hands-on experience.
Experienced professors and skilled nurse educators also provide personalized attention and practical advice as needed during the course curriculum, which helps ensure that students develop all the necessary skills to excel in their chosen discipline. With such a wide range of possibilities, Canada is truly the ideal place to pursue practical nursing degree programs.
Nursing Diploma Options in Canada
Canada offers a variety of nursing diploma options for those interested in learning enhanced nursing practice. At the most basic level, nurses must obtain a two-year nursing diploma and pass the NCLEX-RN exam to become registered nurses in Canada.
Additionally, there are accelerated programs available that allow internationally educated nurses to transition their existing qualifications into a Canadian context. Several post-diploma programs help bridge the gap between diplomas and degrees that offer enhanced learning opportunities along with enhanced nursing practice.
In conclusion, those who are looking to work in healthcare in Canada have access to many educational avenues that allow them to grow their skillset and contribute positively to enhanced nursing practice.
Degree Types and Nursing Specializations in Canada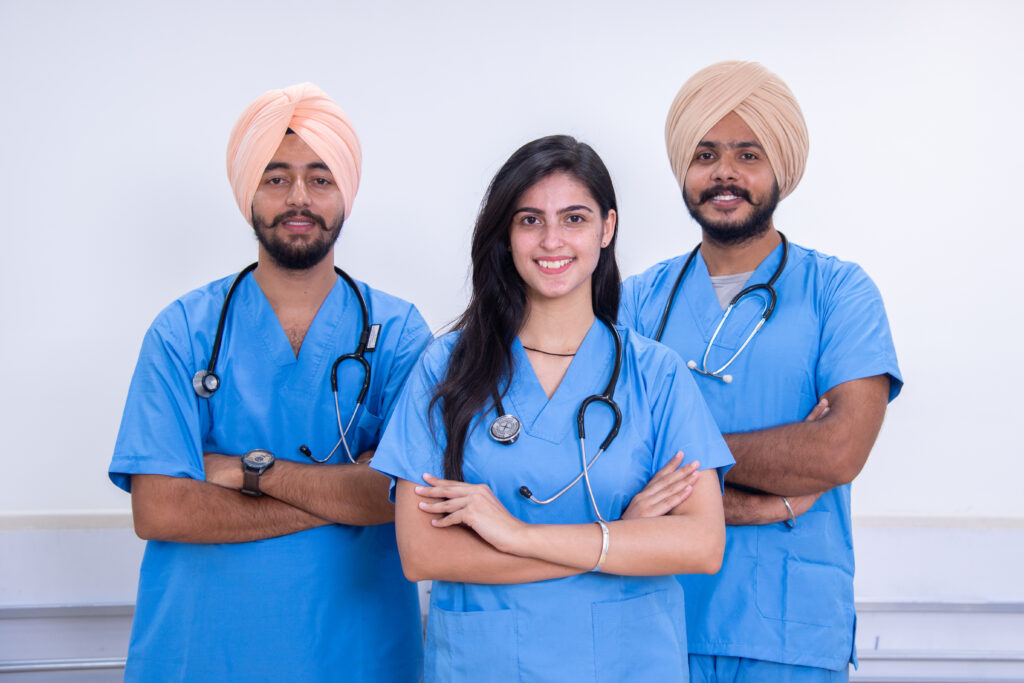 Nursing is an important healthcare profession that requires a variety of degrees and qualifications depending on the role. In Canada, a bachelor's degree is the minimum level of degree needed to enter the field. This typically covers basic nursing knowledge, and practical experience, and may involve some follow-up studies related to specializations in mental health, pediatric care, or other areas.
Aspiring nurses who wish to take on more advanced roles may choose to pursue a master's degree. These programs equip students with management skills in addition to technical nursing expertise. Those looking for specific certifications may seek out doctoral programs as well, which can also provide extra nursing specialization opportunities in particular niches under the wider umbrella of knowledge and practice.
Cost of Studying Nursing in Canada
Studying nursing in Canada is a great option for aspiring healthcare professionals, as the cost of tuition fees is generally lower than in other countries. It's important to remember that fees can vary depending on where you study and what type of bachelor's degree or master's degree you choose.
Nursing Courses In Canada After 12th Grade
If you are considering a nursing career in Canada, it is important to know the available courses of study post-12th grade. Generally, bachelor's degree programs in nursing are offered by colleges and universities across all provinces and territories.
These bachelor's degrees typically provide comprehensive studies in public health, patient care, and management strategies that are necessary for success as a registered practical nurse (RPN), or as a registered nurse (RN).
Many bachelor's degrees also offer specialized areas of concentration like neonatal care or geriatrics. Additionally, bachelor's degree programs will also provide clinics where students have the opportunity to gain hands-on training and valuable clinical experience.
Canada has some of the world's best-trained and highly competent nursing professionals which can be attributed to the quality educational options available after completing 12th grade.
Top Universities Offering Nursing Courses in Canada
Canada is world-renowned for having some of the top nursing colleges that offer four-year bachelor's degrees in nursing. Depending on the institution, many universities provide graduates with a comprehensive academic foundation and specialized clinical practice that prepares them to graduate with a degree.
Top universities offering nursing courses include the University of British Columbia (UBC), the University of Toronto (UofT), McGill University, and McMaster University. Students begin by completing a four-year Bachelor of Nursing Program, including classroom experience as well as hands-on clinical training in real-life environments such as hospitals, clinics, and community centers. After completion of the course, they will receive a Bachelor's degree in nursing and be ready to work as an RPN or Registered Practical Nurse.
Highlights of 2-Year Nursing Programs in Canada
A two-year nursing program in Canada is an intense but rewarding experience. Students can expect to gain clinical experience in various clinical settings, such as hospitals and nursing homes, that draw on their theoretical knowledge of medical sciences and clinical skills.
The clinical component of a two-year nursing program enables students to apply their knowledge directly through simulation, as well as clinical rotations and research. Further, students can look forward to building relationships with clinical instructors who provide feedback and guidance throughout the process to ensure professional competency.
Upon completion of a two-year nursing program in Canada, graduates are eligible for registration with their provincial regulatory board which allows them to practice as a registered nurse or pursue further studies at the baccalaureate level.
Can I study nursing in Canada as an international student?
Internationally educated nurses looking to pursue nursing in Canada must know that it is a great option. There are nursing colleges throughout the country, which offer many nursing-focused programs to international students; this includes both graduate and undergraduate degrees.
International students can also expect to find smaller class sizes and plenty of academic support, making nursing courses in Canadian colleges ideal for those looking to further their studies in nursing outside of their home country.
With proper research about colleges, course duration, and preparation, nursing college applicants from outside of Canada can expect a smooth transition into Canadian nursing programs.
Application Process To Study Nursing Courses in Canada
For anyone looking to pursue a nursing course at a Canadian university, there are eligibility criteria that must be fulfilled to gain admission. These can vary from university to university, but some of the common eligibility factors include language proficiency, meeting academic standards, and residency status.
Applicants should ensure they meet these eligibility requirements before trying to apply to avoid any unnecessary delays or rejections. Furthermore, universities may also look into forms of practical experience as part of the application process; such as volunteer work or unpaid shadowing experience with registered nurses or other healthcare professionals.
People applying to study in Canada should make sure they have properly reviewed the eligibility criteria of their prospective universities before applying.
Nursing Jobs & Salaries In Canada
The average salary for a nursing position in Canada is quite competitive. The average wage for registered nurses runs between $35 and $50 per hour, depending on experience and specialization.
Nurses play a vital role within the healthcare system and their salaries reflect the importance of their positions. When you consider all of the benefits that nurses receive such as vacation pay, health insurance, and retirement plans, it makes sense why they are among the highest-paid positions within the healthcare sector.
With the demand for skilled healthcare professionals increasing each year, those with a passion for nursing can expect to earn an average salary that is higher than many other occupations.
Interview Tips for Students Applying to Canadian Universities & Colleges
Canadian universities and colleges offer countless courses across numerous disciplines, ranging from one-year diploma programs to doctoral degrees. Whether you're applying for a Bachelor's degree, Master's degree, or Ph.D. program in Canada, there are a few key tips to keep in mind during your interview process. For example, being aware of the course duration you're applying for is essential.
Additionally, having a clear understanding of the Canadian academic system and how it differs from other countries is beneficial. Furthermore, researching the Canadian university or college you're interested in can demonstrate your commitment and help make a positive impression on potential Canadian employers.
By taking the time to prepare for Canadian universities and college interviews using these helpful tips, soon you'll be on your way to Canadian academic success!