Canada, the expansive nation with bountiful natural resources, is estimated to experience a shortfall of nurses – indicative of its national healthcare system's expanding demand for quality care. With growing demand and ample opportunities for professional growth, now is the right time to consider the profession of study nursing in Canada.
As per the Canadian Nurses Association (CNA), owing to the aging of nurses currently in the profession and an age-old population suffering from complex health issues, the country is staring at an acute shortage of perhaps the most important pillar in the healthcare sector: Nurses.
For international students planning for studying nursing courses in Canada, then now is the time. This is the right time in several ways, and we have listed some reasons for you to know why NOW is the right time to pursue nursing courses in Canada.
Demand and Supply
As per a report by the Canadian Nurses Association (CNA), the demand for nursing in Canada is expected to increase at a faster rate than the supply of Regulated Nurses as more time passes. While Registered Nurses (RNs) provide services and support like care coordination, supervision, and case management among others, the association predicts an acute shortage of nurses in the years to come and the demand is only going to increase.
So, international students willing to pursue nursing courses in Canada must not delay further and apply. In addition, the provincial government is investing in nursing programs to support IENs in their career.
Remunerations
The employment prospects for Registered Nurses (RNs) after completing nursing courses in Canada are exceptional in Canada as the profession is in high demand and requires a lot of skilled training. Recognized as a country whose medical healthcare system is amongst the best in the world, Canada offers good remunerations to nurses.
The wages for nurses are on the higher side and are expected to increase even further as nursing is the second most sought-after profession in the country, only behind teaching. RN pay rates in Canada start at 29 Canadian Dollars (CAD) per hour and go as high as 53 CAD based on experience.
The pay scale varies according to the qualifications the nurses possess, with Advanced Practice Nurses, Nurse Practitioners, and Nurse Managers falling in the upper category of the salary bracket.
Canada is one of those countries where financial stability for nurses is never a concern. Upon completing nursing courses in Canada, options are plenty and the country offers a steady growth that is an important pre-requisite for every Internationally Educated Nurse (IEN) planning to move.
Better Living Conditions
International students planning to study higher education nursing programs in Canada do not need to worry about their quality of life. Environmental quality and individual freedom are of prime importance in Canada and a lot of importance is given to bringing stability to the lives of its citizens.
If you are studying a nursing program in Canada, you will end up getting a job that pays you well and gives you ample job security so that you can live your life at ease.
Culturally Diverse
As an international student, you will meet plenty of people from different cultures and it will only empower you to improve your patient's life. Since you will be able to observe people from different cultures so closely, it will give you various professional and personal insights and the experience that you gain in Canada will equip you to deal with difficult situations better.
As a nursing professional in Canada, you will be able to identify culturally competent practices that will enhance the outcomes for your organization. You will also be able to identify relationships, structures, and processes required for developing and sustaining your medical practices.
Acute Shortage of Nurses
A major challenge that the health sector in Canada is currently facing is the acute shortage of nurses. This has resulted in an increased patient load, longer wait times, and stretched resources.
To cope with this crisis, the government of Canada has implemented various initiatives to recruit more qualified nursing professionals from abroad.
Keeping this in mind, this is the right time for all Internationally Educated Nurses (IENs) to consider studying nursing in Canada and landing jobs in the Canadian healthcare workforce. Since you will have the opportunity to study specialized modules in nursing that will enhance your professional competency, it will help you inch closer to becoming a Registered Nurse (RN) in Canada.
Specialized Nursing Education
Specialized Nursing Education holds a lot of importance in Canada. Internationally Educated Nurses (IENs) who receive specialized training for a specific nursing course or specialization is high in demand in terms of relevant jobs.
For example, if you are studying nursing in Canada and specializing as a Palliative Care nurse, then you will end up catering to patients falling under that specialization. Similarly, other programs teach Gerontology, Community Mental Health, Critical Care Nursing, and so on. So, foreign nurses who choose to study Gerontology can work as Geriatric Counselors, Rehabilitation Consultants in hospitals, hospices, community centers, clients' homes and assisted care facilities.
Similarly, nurses who study Community Mental Health can work as Mental Health Nurses/Counselors, Health Policy Advisors, or work with community agencies and long-term care departments. The focus of jobs for an Internationally Educated Nurse (IEN) who has studied Mental Health would be mentally challenged patients who need intensive care and treatment.
These nurses must provide optimal care to clients with diverse mental disorders. Hence, given the specialization that you have studied in your nursing course, you would land a job in your respective area with expertise for that every specialization.
This is always beneficial in the long run as specialized care aims to improve the quality of life of the patient by providing them with the tailor-made assistance that they need.
Apart from the advanced healthcare and education system that Canada has, it is also a very liberal country. It is a tolerant country that advocates freedom for all and guarantees growth if you spend a substantial amount of time there. As a nurse, you should make your presence count in your organization and make a difference each day.
For you to successfully learn how nursing is practiced in Canada, it is incumbent for you to understand the process thoroughly. Choosing the right educational system in the right province with the right guidance plays the most crucial part in your road to success in Canada. Therefore, the selection of a specialized postgraduate nursing program in Canada will require you to do proper research and consult a trusted education partner. It is only after ascertaining the best options should you decide to choose a program.
While adjusting to the Canadian culture can be a task for some, it is very rewarding at the end of the day as the country has one of the best healthcare systems in the world, and it continues to grow with the best infrastructure that is available there. So, nurses, if you are planning to take up higher nursing education programs in Canada, now is the best time to do it.
How many years will it take to study nursing in Canada?
If you're thinking of becoming a nurse in Canada, you may be wondering how much time it takes to complete the necessary training and education. The answer is that it depends on what kind of nursing career you pursue. Let us review the most common nursing courses in Canada and discuss how long each of them takes to complete.
Registered Practical Nurses (RPN) Program
To become an RPN in Canada, you must first complete a diploma program from an accredited college or university. These programs typically take two years to complete and are comprised of quality education in the form of classroom instruction as well as clinical experience. It's important to note that some provinces have additional requirements for RPNs, such as additional courses or certifications.
Bachelor of Science in Nursing (BSN) Degree Program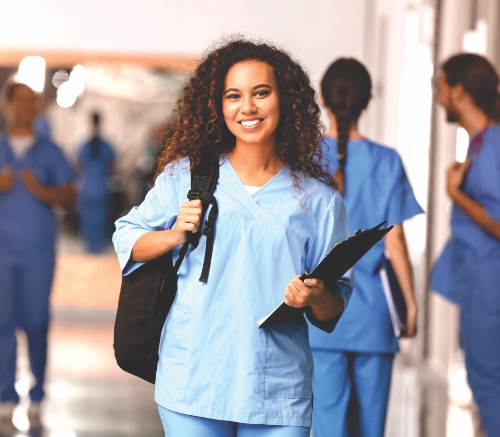 A Bachelor of Science in Nursing (BSN) degree is the most common type of nursing degree offered in nursing schools in Canada. This four-year program combines classroom instruction with hands-on clinical experience and prepares students for a range of advanced nursing roles. Upon completion of the program from, a nursing school, graduates are eligible to write the licensure exam required by their province and become registered nurses (RNs).
Advanced Practice Registered Nurse (APRN) Program
If you want to pursue an advanced practice role such as a nurse practitioner or certified registered nurse anesthetist, then you will need to enroll in an APRN program. These programs typically take two years to complete and require applicants to have at least one year of experience working as registered nurses before enrollment. During their studies, students will gain specialized knowledge and skills related to their chosen field of practice through both classroom instruction and clinical placements.
Becoming a nurse in Canada requires dedication, hard work, and significant time commitment depending on which type of nursing practice you choose. For those interested in becoming an RPN, you can expect your studies to take two years; for BSNs four years; and for APRNs two years plus one year working as an RN before enrollment.
No matter what path you choose, once you've completed your education there are countless opportunities for rewarding careers within the Canadian healthcare system waiting for you.
Universities offering Nursing in Canada
It's important to know what universities offer the best nursing courses. Canada has some of the world's top universities for nursing, with many offering great facilities and faculty that will help you gain the experience and qualifications you need for a successful career in the medical field. Let's take a closer look at some of the top universities for nursing in Canada.
McGill University
McGill University is located in Montreal, Quebec, and offers one of the best nursing courses in Canada. The university offers a Bachelor of Science in Nursing (BScN), which provides students with a comprehensive understanding of all aspects of modern healthcare practice while focusing on evidence-based decision-making and clinical problem-solving.
McGill also offers a Master of Science (MScN) program designed to prepare nurses as advanced practice nurses. Alongside these two degrees, McGill also offers several certificates and degrees related to nursing, such as an Advanced Certificate in Nursing Education and Leadership.
University of Toronto
The University of Toronto is one of Canada's oldest universities and is located in Toronto, Ontario. The university offers several excellent programs related to nursing including an undergraduate degree (BScN) as well as graduate degrees such as Master's Degrees (MScN) and Doctorate Degrees (Ph.D.). Additionally, the university also offers courses related to health care management, ethics, pharmacology, and public health so students can learn about all aspects of nursing from a variety of perspectives.
University of British Columbia
The University of British Columbia is located in Vancouver, BC, and provides students with an outstanding education focused on leadership development and interdisciplinary collaboration. The university offers both undergraduate (Bachelor's Degree) and graduate (Master's Degree) degrees related to nursing as well as specialized courses such as Critical Care Nursing or Advanced Practice Nursing.
Stay back and Work permit after studying nursing in Canada
To work in Canada after studying, international students must apply for a work permit. International students who have studied at designated institutions may be eligible to receive a post-graduation work permit, which allows them to stay in the country and gain valuable experience in their areas of expertise.
The length of the post-graduation work permit varies according to the student's program but can range from 1-3 years. With a valid work permit, graduates may also be eligible to apply for Canadian permanent residency after achieving their Canadian educational credentials.
Courses and programs offered by Canadian universities offer students the opportunity to develop key skills, network with people in their chosen profession and gain a deeper understanding of their field of nursing in Canada.
Studying nursing in Canada can be an excellent starting point for international students looking to pursue long-term career goals and opportunities. With work permits available after graduation, it is easier than ever for students to gain experience in their chosen field and start building a strong career in Canada. This can provide an important step towards Canadian permanent residency.
For those looking for further opportunities in nursing in Canada, many Canadian universities offer post-graduate diplomas or certificates that can allow students to delve more deeply into their field of study.
These programs often require additional coursework or a research project and can help students to stand out when looking for work. Additionally, Canada is home to some of the best universities in the world, making it an ideal choice for those who wish to pursue higher education.
Essential Things to Know Before Studying Nursing at Canadian Schools
Studying nursing at Canadian institutions can be a complicated and challenging journey. However, with the right preparation and understanding of the complexities of study in Canada, the transition to a professional nurse could be smoother.
understand at length about study permits and documents required
Before studying nursing at Canadian schools, it's essential to develop an understanding of study permits, medical insurance plans such as OHIP, and identification documents needed to live and study within Canada.
In addition, international students must familiarize themselves with the requirements that each post-secondary education institution has for admission and approval. Researching entry criteria such as grades, English language proficiency tests, as well as references and documentation is beneficial before applying. Ultimately, getting acquainted with the study basics and local regulations of Canada before the study will ensure a great foundation for successful study experience and future career opportunities.
Teaching approach may vary as compared to your home country
To accommodate the differences, international students must be prepared to adapt to the teaching approach used in Canada. For example, Canadian universities tend to offer a more interdisciplinary approach with classes and activities outside of regular lectures.
Mastering multitasking is the key
With so many activities and assignments to juggle, it can be challenging to stay organized and on top of things. It is important to develop good study habits and time management skills early on to maintain a healthy lifestyle and an acceptable academic standard. Additionally, seeking out support from classmates, professors, or student services can also be beneficial.
Scope After Pursuing Nursing Courses in Canada
Pursuing a nursing course in Canada opens up a wide variety of options, allowing you to choose the field that best suits your ambition. For example, licensed practical nurses specialize in delivering fundamental medical care, while registered nurses may opt for specializations including pediatric and geriatric nursing.
Those interested in taking their studies even further in the field of nursing in Canada can work towards obtaining specialized degrees or doctorates in their chosen fields. Each progression comes with increased responsibility, salary prospects, and enhanced opportunities for career growth.
Therefore, pursuing nursing courses in Canada is an excellent way to cultivate your knowledge and experience within various branches of the profession, helping you to achieve long-term career goals.